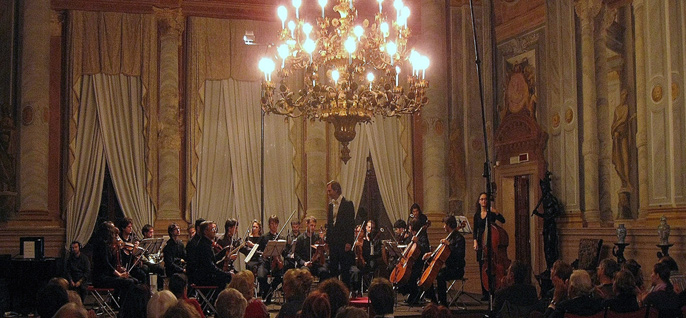 About Us
L'OFFERTA MUSICALE
"L'Offerta Musicale" was founded in 1989 and in over twenty years of activity has fully deserved the title of Venice's Chamber Orchestra. Under the untiring guide of its founder and conductor Maestro Riccardo Parravicini "L'Offerta Musicale" gives a high contribution to the diffusion of classical music in Venice with four important concert seasons : "Primavera Musicale" in spring, "Autunno Musicale" in autumn, "Venetian ancient music review" in winter.

The orchestra has been given a distinguishing stamp by its conductor Maestro Riccardo Parravicini whose constant work of research (not only under a musical point of view but also following philosophical and historical reflection) gives birth to "musical paths" rich of interesting thematics and, therefore, music productions whose distinguishing features make the orchestra excel in the Venetian artistic scenario. Thanks to the interesting aspects of the artistic choices that characterise its concert seasons' programmes the "Offerta Musicale" has received official appreciation and financial support from the Italian Ministry of Cultural Heritage, as well as from Venice Municipality and also from the Ministry of regional affairs. The high quality of its performances has won the orchestra a widespread success with audience and press, leading the "Offerta Musicale" to gain the consensus of many music critics and musicologists such as G. Pugliese, M. Messinis, G. Morelli.
"L'Offerta Musicale" proudly numbers, through the years, successful tours in Italy, France, Spain, Austria, Germany, Belgium, Luxemburg, Malta, Croatia, Hungary, Switzerland and has taken part to several national and international festivals, such as : Festival of Benediktbeurer (Germany), Festival of Flanders (Belgium), Festival Internacional de Mùsica y Danza "Ciudad de Ubeda", the Teatro Manoel concert season (Malta), Festival of Medina and El Djem (Tunisia), as well as many events organized by embassies and Italian Culture Institutes abroad.
"L'Offerta Musicale" performs with soloists of international fame such as to make a few examples: violinist M. Sirbu, G. Carmignola, D. Scharzberg; cellists M. Cazacu, A. Meunier; flutists C. Arimany, M. Larrieu,R. Greiss; pianists B. Canino , P. De Maria, E. Perez de Guzman; harpist S. Mildonian.