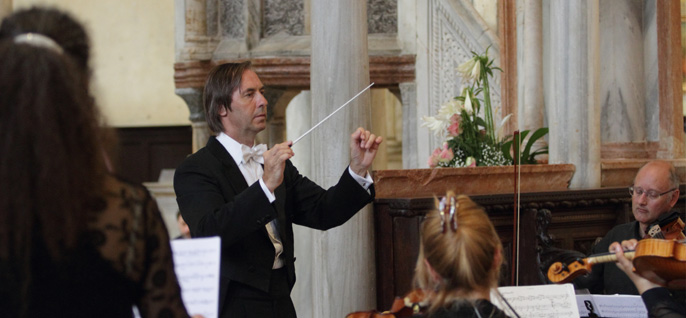 Curriculum
RICCARDO PARRAVICINI graduated in music composition with professor Dalla Vecchia and studied piano with Christine Meyr; choral music and conducting with Professor Vanzin. He attended Master-classes at Fiesole Music Academy specializing in the art of conducting under the guide of Professor Bellugi and Professor Ferrara; furthermore Maestro Parravicini enriched his early professional experience by taking high proficiency classes with Maestro Horia Andreescu in Bucarest.
He is founder, musical director and conductor of "L'Offerta Musicale" Venice Chamber Orchestra.
With "L'Offerta Musicale" he numbers several successful tours in Italy, France, Spain, Austria, Germany, Belgium, Luxemburg, Malta, Croatia, Hungary, Switzerland and has taken part to several national and international festivals such as : Festival of Benediktbeurer (Germany), Festival of Flanders (Belgium), Festival Internacional de Mùsica y Danza "Ciudad de Ubeda", the Teatro Manoel concert season (Malta), Festival of Medina and El Djem (Tunisia), as well as many events organized by embassies and Italian Culture Institutes abroad. As music director and conductor of "L'Offerta Musicale" he has performed with soloists of international fame such as: violinist M. Sirbu, G. Carmignola, D. Scharzberg; cellists M. Cazacu, A. Meunier; flutists C. Arimany, M. Larrieu, R. Greiss; pianists B. Canino , P. De Maria, E. Perez de Guzman; harpist S. Mildonian.
In the last few years, Riccardo Parravicini has created an innovative educational project dedicated to the new coming generations that has been developed in schools (from fourth grade level pupils to high school). Maestro Parravicini and the whole orchestra offer a sort of "music-laboratory" especially thought for the youth, a unique opportunity who prompts the audience to become more familiar with classical music by providing explanations designed to deepen their involvement.